For weeks I've been watching a little house wren sit on a tidy nest in a front-garden shrub. I'd found the nest with my spade raised to prise the bush from the ground for relocation. Four blue, brown-speckled eggs popped into view, tucked just inside.

Obviously, landscaping was postponed, and each day I checked on the nest, always expecting the eggs to be gone. They were precariously sited in a bush not two feet off the ground, easy pickings for a snake or raccoon or possum. I considered surrounding the bush with some sort of barrier, but knew that the only thing that would keep a snake out was fine netting. I learned my lesson last summer when a large black snake got stuck and died in the netting I installed to protect the garden from the chickens. So I chose not to intervene with the nest.
Without any "help," the eggs persisted, and two days ago the mother wren didn't fly off the nest when I approached. She flattened her body in place, with only her brave eyes moving, and I knew her eggs had hatched.
Yesterday I went out to feed the chickens and saw Tucker bent over something in the grass. I knew that posture. Immediately I checked the nest, and it was empty.
I went back to where Tuck had been standing and searched the dewy clover. I found two little bodies, perfectly bloodless and still warm. I picked them both up, and they curled together in the palm of my hand as they must have in the nest. I almost felt their hearts beating against my skin, but knew it was only wishful thinking. Nearby the mother bird swooped and chattered, scolded and cried.
I buried the babies in a scrape of dirt, and went on with my chores, silent and avoiding eye contact with my dog. Of course I was sad but I had no right to be angry. I knew Tucker was only doing one of his jobs, hunting. A wild baby bird in an ill-positioned nest is to him no different than a rabbit flushed from the wellhouse or mole dug out of the pasture, and all are fair, encouraged game.
As I'd wrapped up the chicken chores I moved some flats of seedlings out of the shed into the rain. I glanced down and saw that my crepe myrtle, still in its gallon nursery pot, had leafed out by several inches from the base.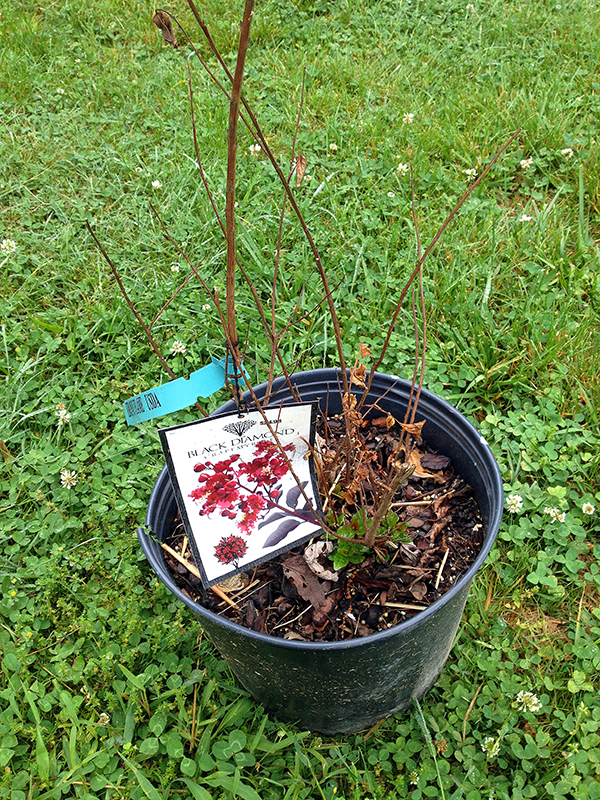 Seems reasonable until I tell you that I'd tortured this plant all last summer, letting it go bone dry and sunburned, as I prevaricated about where in the ground to stick it. And then summer became fall became our incredibly cold and snowy winter, all during which the pot of dead sticks sat unprotected outside of the wellhouse.  I was disappointed in myself that I'd killed a perfectly good future tree by not being able to make a simple, timely decision, and just a few days ago I had accepted my crepe myrtle was toast and mentally pitched it on the compost pile.
But in that short interval between intention and action this forsaken plant had quietly, and on its own schedule, conveyed to me its plan to live.
Doing or not doing. Both are choices, and the joke of this choose-your-own-adventure is that we're all just bumbling along. In a span of five minutes I got a perfect lesson in acting and not acting, and how each movement's consequences can be both predictable and surprisingly unexpected.
I am going outside now to plant a crepe myrtle.
§ One Response to "Doing and not doing"