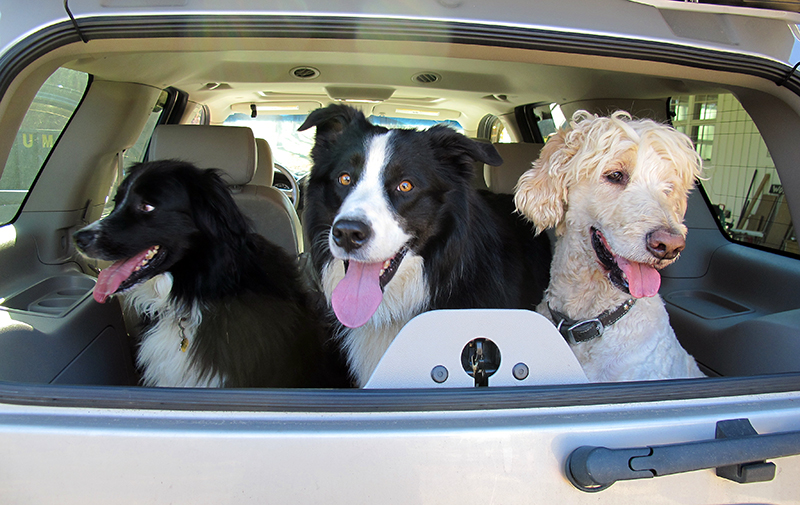 Even though I now live 3,570 miles away from my farmdog, I think about him all the time, especially when I see a black and white shepherd here in Edinburgh—which is about every day given that this is the land that originated the breed. Ancestors of the English Shepherd went to the New World with the colonists, where they were developed into all-purpose American farm dogs.
Interestingly, the breed "English Shepherd" isn't known as such here in the U.K. unless dealing with a specialist breeder. A quick glance around the internet reveals that some U.K. breeders are importing English Shepherds from the U.S. for their breeding programs, touting the benefits of these "American" dogs. What goes around, comes around, right? Here's the clearest explanation I've seen of the origins of the breed and how it developed. Right now there are only three U.K. English Shepherd breeders listed on the U.K. English Shepherd Club Web site. Maybe Tuck has a future here as a stud dog?
As much as I am sure he'd like that, Tuck is doing great living with my parents, where he has everything he needs plus the added benefit of canine cousins. Tuck grew up a wild child in a Free Union holler', homeschooled by an eccentric and reclusive single parent—this new socialization is good for him. As dogs do, he's adapted to and accepted his new reality without a backward glance, which is all I could hope for. Happy fourth birthday, farmdog.
Past birthdays: Third birthday, second birthday, first birthday.
(Thanks to Dad for the photo, and all the regular updates.)