Today dawned in marked contrast to the last few days. In place of cool mist and fog were bright sun and almost 70 degree temperatures. I seized the opportunity to complete the year's final tasks in the garden that surrounds the house.
I started by robbing my compost pile that's been in the making for almost a year. It's a mix of garden waste, grass clippings, soiled chicken house bedding, and kitchen scraps. Instead of engaging in a hot composting process, which requires a more precise mix of nitrogen-rich greens and carbonous browns, plus proper moisture and aeration, I just throw everything in a pile in the woods and let time work its magic. Which it does, yielding a worm-full and deeply nutritious mix that every fall gets spread about the farm.
I forked the compost into the big tractor bucket. I prefer using this large bucket when dealing with bulky materials because it can carry much more than the smaller bucket. The downside, though, is that I can't dig or scoop with this big bucket without damaging the tractor's arms, so that means lots of hand forking. In many ways this is still necessary, though, as the margins of the pile aren't well defined and the pile isn't large enough to efficiently scoop with a small bucket anyway.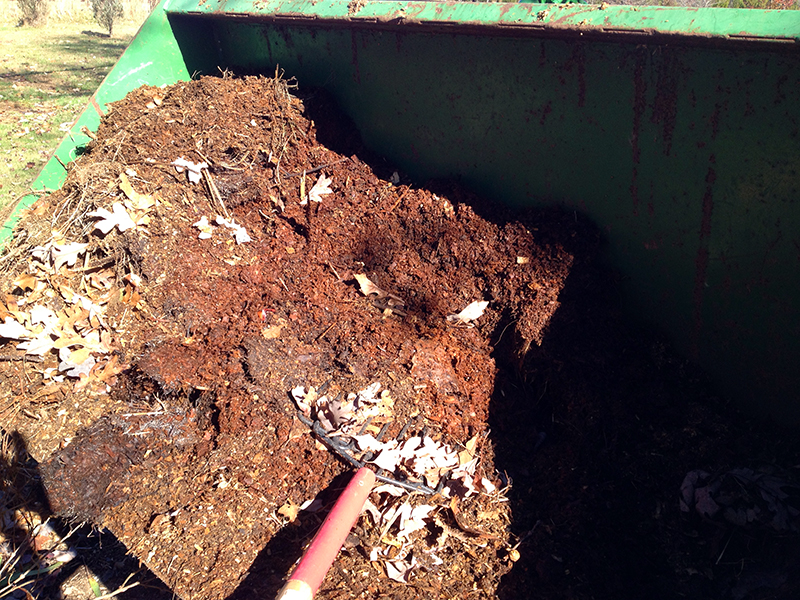 I managed to eek two large buckets of compost out of my pile. It's not a ton, but I spread it almost an inch thick over all the exposed dirt in the garden and even had enough to pile some extra around heavy feeders, such as the roses.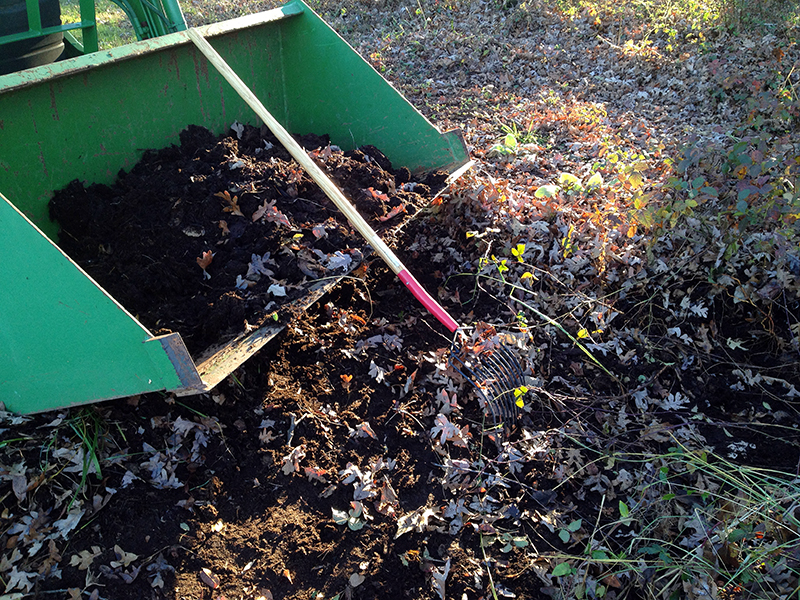 Once the compost was down, I went back for mulch. My target was the remnants of the ten yards that were delivered in early April. They'd been spread about a bit in the field and briars and grass were starting to grow up in the pile.
This required lots of hand forking and tedious, prickly picking through, but I managed to get four big bucketfuls out of a rather insubstantial looking pile. Not only did it feel good to reclaim something for which I'd paid good money, but the eight-month rest in the field had decomposed the mulch the absolutely perfect consistency—damp, dark, crumbly and ready to go to work building soil. It makes me realize I should be ordering all my mulch at least half a year in advance of when I want to apply it.
Anyone who's been reading this blog for a while knows that when it comes to mulch, I prioritize its soil-building properties over any aesthetic contribution it may make to the landscape. The key to building good soil is keeping it mulched with an appropriate material, one that breaks down and adds organic matter to the soil. When you're working with what I've got here—compacted red Virginia clay around a construction site—short of digging out all the native dirt and replacing it the only way to create great soil is through repeated application of amendments such as compost and mulch. Do that for ten or fifteen years and you might get somewhere. I am three years in and my fantasies of dropping a trowel and having it sink blade deep in rich, black soil are a long way off.
But I work at it. And will keep working at it every year as long as I can wield the pitchfork.
By sundown I could barely move but I was finished spreading compost and mulch, and I felt good about this final gardening act of the year. This is always one of the most physically demanding days of the year, and I am glad to have it behind me. Now I celebrate, and rest easy knowing I have left a nutritious blanket over my garden that will nourish it through this winter and into the spring to come. It's a good feeling, despite the protest of every nerve  and muscle in my bone-tired body. I'm headed for the epsom salts and a scalding bath, and most likely a well-deserved beer.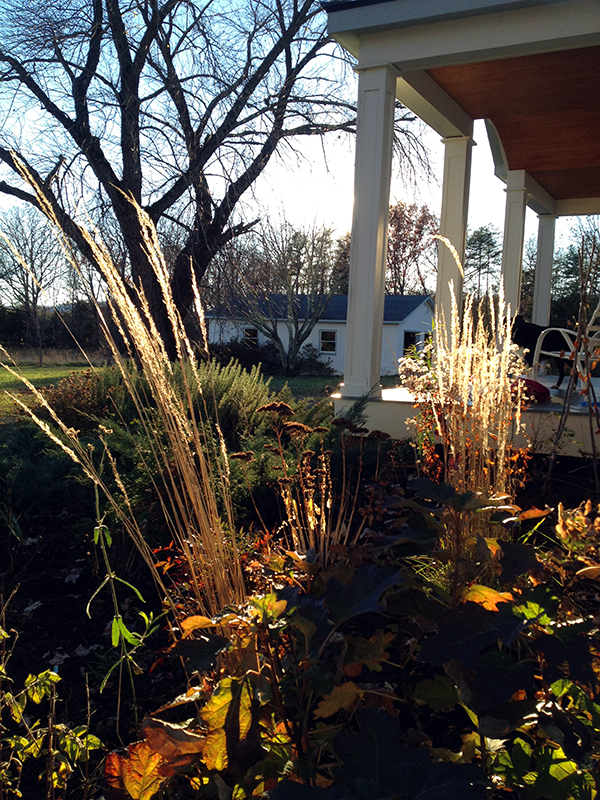 § 2 Responses to "Tucking in the house garden for winter"