This is the first harvest of summer 2014—a few squash and zucchini that managed to outrun the oncoming squash bugs, some hot peppers, basil and other herbs, and five Sun Sugar tomatoes. Tomatoes before the fourth of July—not bad considering our long, cold spring.
The zinnias are just coming on, and I bet tomorrow I will see the first cosmos bloom. It is great to be back in the cutting flower business. From now until frost there will be homegrown bouquets all around my house.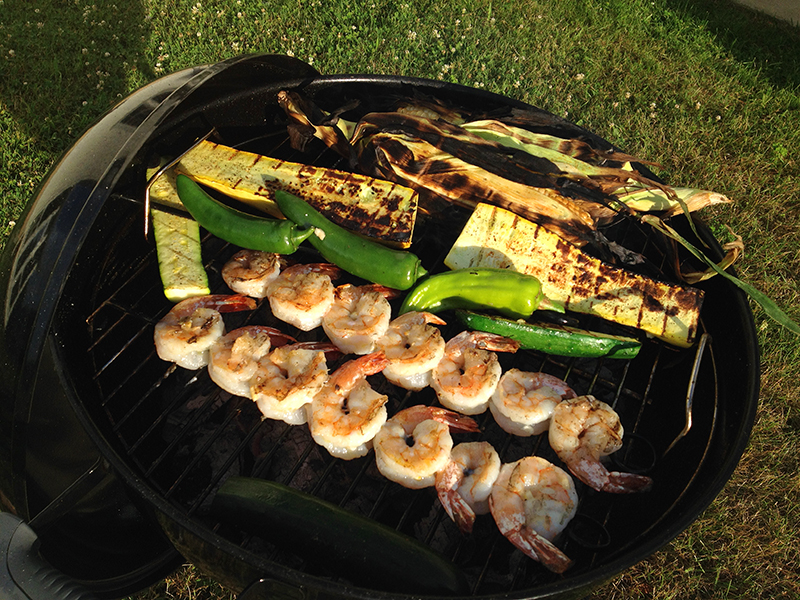 Such bounty calls for a celebration with fire. As I didn't do much for the Solstice this past weekend, I fired up the grill to cook a first harvest/Solstice feast as thunder bounced around the mountains. I just got the grill a few weeks ago, a gift from my mom, and it's been a steep learning curve to understand this entirely new way of cooking. It's a good challenge, and one I needed as my culinary selfeducation had grown stagnant. It feels wonderful to push myself, to make mistakes, have "eureka" moments and accidental epiphanies, and at the end of it all, if I'm lucky, dinner.
And what a dinner it was. Garlic shrimp, my veg, some corn slathered with butter and seasonings and wrapped back up in its husk to grill. A simple, perfect salsa made with my five pretty gold tomatoes, basil, salt, pepper and olive oil. These squash were on a whole other level from the pallid supermarket varieties I grilled last week. Call me a tree-hugging hippie, but I can taste a difference when I eat something I planted in April as a two-leafed seedling, nurtured and protected, and finally harvested within twenty minutes of consuming. Vegetables taste alive, almost meat-like in their nutrition and vitality. They go straight to my brain.
And, nothing is wasted.