Meadows are hot right now, with horticulturalists' renewed focus on habitat preservation/creation and the rise of the "new perennial" gardening movement that showcases native and "wild-looking" plants in naturalistic compositions. Everyone loves a meadow—or at least the image of them as presented in aspirational garden porn—billowing fields of lively grasses punctuated with bright yellow, pink and white blooms that persist all summer long.
There are several ways to achieve the cultivated meadow look, and the most commonly accepted, and perhaps effective, method involves several rounds of herbicide spray that kill all existing plants back to bare dirt, a process that takes about a year in order to catch each wave of germination. The idea is to create a blank slate so that you may then, ideally in the fall, sow a mix of wildflower seeds that's usually composed of annuals, to give you quick, first-year color, and perennials, which will take longer to get going but persist and multiply through the years. Without leveling the playing field with herbicide, the desired wildflower seeds most likely wouldn't be able to germinate and out-compete the existing vegetation.
All this is fine, and I've seen some lovely meadows created this way. But the idea of mass herbicide spray doesn't sit well with me, nor does watching vast swaths of ground turn brown and shrivel, taking with it the native plants in all their diversity only to be replaced with a select blend of imports. As much as I would love to try creating a wildflower meadow, and still may, I haven't yet been able to reconcile the steps I'd have to take to get there.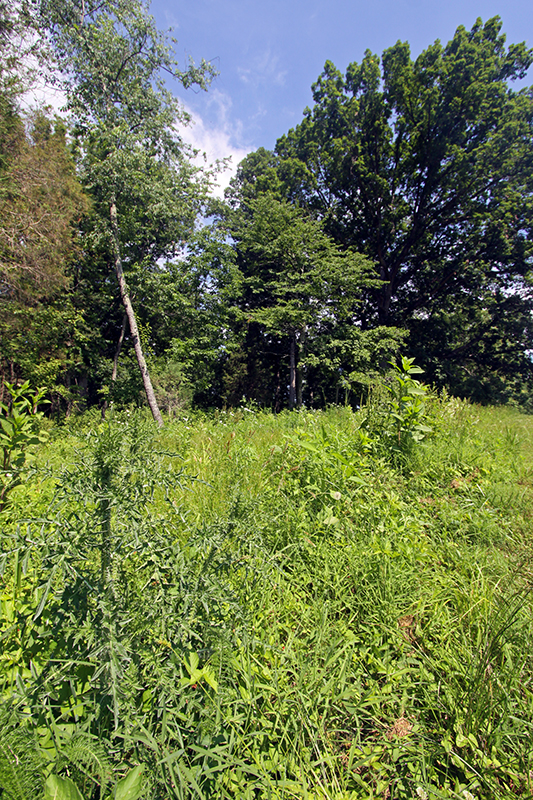 But as I was mulling this gardener's quandary, a wildflower meadow was quietly forming right in my own yard with almost no help from me. It happened in the transitional zone between the forest and my mowed field, on a patch of ground that had been thickly colonized by invasive alanthus trees, honeysuckle, and brambles. This area was cleared back to bare dirt two winters ago, and I basically just left it alone.
Last year I noticed tons of mullein plants sprouting in the bare dirt. Mullein are the pioneers of the plant world—they are among the first plants to recolonize disturbed ground. They are biennials, and in their first year form a rosette of soft, fuzzy grey-green leaves. The second year the plants shoot tall yellow flower stalks high into the sky. Mullein has a long and respected heritage in herbal medicine, and is commonly used to treat disorders of the respiratory system. If you believe in the doctrine of signatures, the leaves of mullein are lung-shaped, which indicates that they are beneficial to that part of the body.
I think mullein are incredibly beautiful, and so I refrained from mowing them last year in order to see them bloom this year. Well, in not mowing this patch of ground, I unintentionally created what has turned out to be a fascinating wildflower meadow—no herbicide needed. In addition to purple clover, wild strawberries, and countless other plants, here are just a few of the flowers I've identified in my meadow: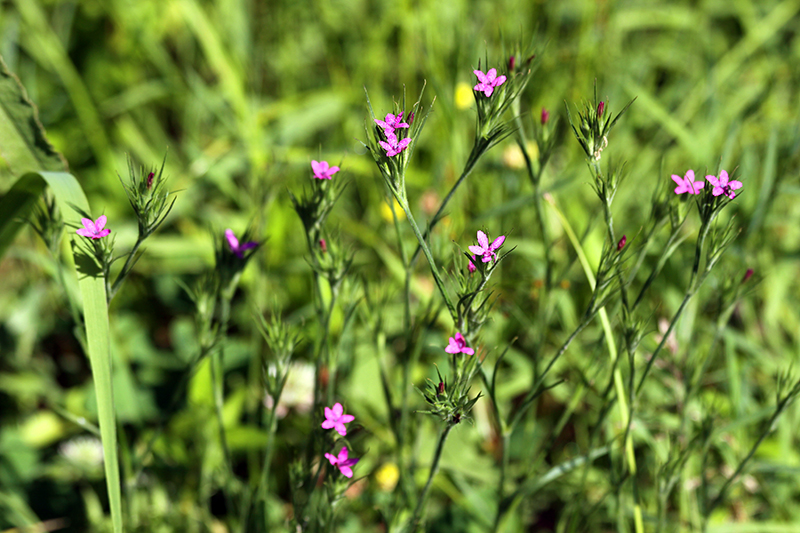 Dianthus armeria, or Deptford Pink, a relative of Sweet William
Achillea millefolium, common yarrow
Some kind of very pretty, low-growing grass that reminds me of the "fiber optic grass" sold in nurseries. Any ideas what it is?
Papaver aculeatum (I think), orange poppy, gone to seed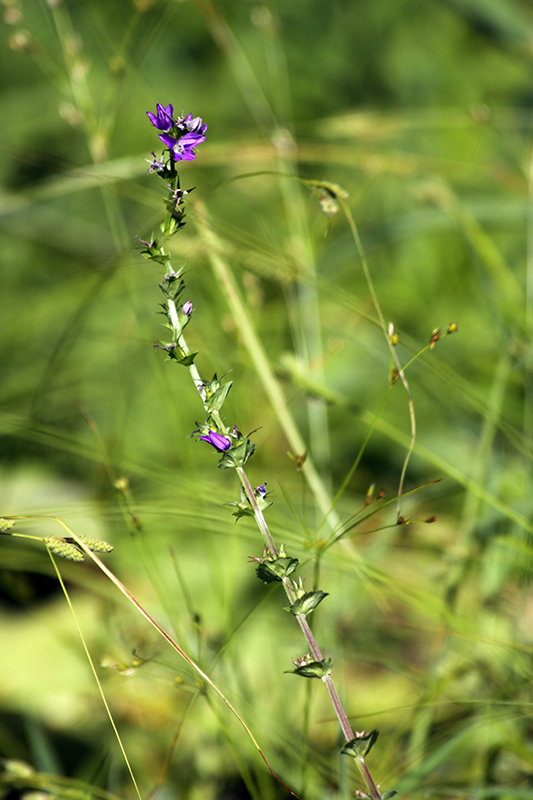 Triodanis perfoliata, Venus Looking Glass
Wild onion, gone to seed
Parthenocissus quinquefolia, Virginia creeper, with Erigeron strigosus, Prairie Fleabane in the background
I look forward to watching this meadow progress through the summer, but in the meantime I find it so striking that the former hayfield, above, which I bush hog every now and then, is so much less botanically diverse than the new meadow, below, which sits just a few feet away. I am not sure if this is because the hayfield was created (how are hayfields created, anyway?) once upon a time to be primarily grasses, but I would have thought that by now it would have reverted to a more wild state. Perhaps the grass cover is too thick to allow other plants to germinate? Botanical succession—how plants reclaim and populate land, which come first, and how they create ideal conditions for each successive wave of new plants—fascinates me, and I am glad to have these uncultivated meadows that provide a wonderful laboratory to watch and learn from this process.
§ 4 Responses to "My unintentional meadow garden"