The winter storm that started trouble making in Texas is now upon Free Union and headed up the East coast. It started snowing last night just after 6:00 p.m., and at 9:00 this morning there were 13 inches on the ground and more still falling. This is a pretty significant snow event for our area.
I ducked out in a break between snow bands to dig out the driveway. Yesterday I had staged the tractor, putting on the smaller bucket and moving equipment around in the garage so I could back the tractor in, ready to head out bucket first in the event of a big snow. Sometimes my storm preparations seem like overkill, as in Central Virginia snow events tend to bust more often than boom, but all the forecasters were saying this one was a sure thing. I didn't want to be caught with my tractor trapped inside behind the zero-turn mower, sporting the wrong bucket for shoveling snow.
Using a tractor bucket instead of a snow plow is slow going. It took me about two hours to dig my way out of the garage and down the driveway toward the road, where I cleared the path to the mailbox for the mailman who probably won't come for days. I worked pretty slowly, trying to preserve what little gravel I have on the driveway. I thought it was interesting that I was the only person out clearing anything—my neighbor was snowboarding down the road with his three teenage kids!
I often mention on this blog how much I love my green tractor, and today was no exception as that tractor meant the difference between being trapped in the mountains and not, once the main road is plowed. I felt like a Carhartt-clad snow queen in her chariot, enjoying the slack-jawed gaping of the few country neighbors who slid by in their pick-ups.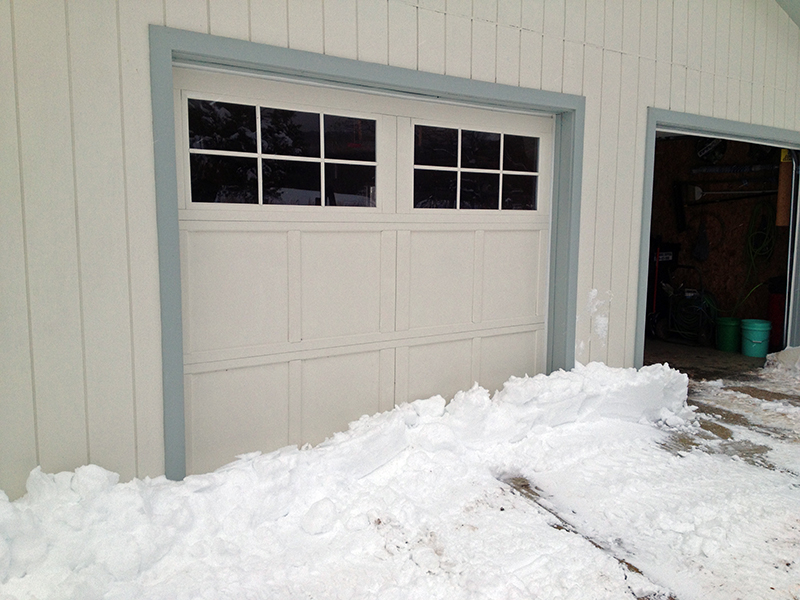 I had only a tiny bit of shovel work right in front of the garage on the side where my car is parked. Once I was done I checked on the chickens, filled up the very-popular bird feeders and headed inside to the woodstove and a cup of hot tea, just as the next round of heavy snow began to come down.
We're supposed to get a few more inches of wet and heavy snow tonight, and the winds are really picking up and blowing into near white-out conditions—certainly working to undo this afternoon's plowing. High winds mean the power may go out, so I'll hit publish while I still can. But at least I have my driveway plowed enough to get out with my S.U.V.
Now, when the fifteen miles into town are a bit more clear, I could actually go somewhere!
§ One Response to "The big dig"