As we head into the darkest days of winter, it's easy to be overwhelmed by the prospect of at least five months of diminished light and cold, brown scenery. In an arsenal of coping strategies that includes Christmas lights, wood stove parties, strong dark beers, and emergency beach vacations, I offer one more tool: bulbs.
Spring bulbs, specifically. The show begins in March with the dwarf iris that shine indigo under late-season snowfall, and carries on to the tiny cerulean scilla that remind me of the September sky. These little spots of blue, planted right along the front walkway, arrive when I've about given up and remind me that in just a few weeks the yard will be spotted with yellow daffodils. And once the daffodils arrive I can begin to breathe the scent of thawing soil while I lose myself in spring garden planning and sowing the first sweet peas. I have made it through the winter, and will be okay.
But this late-winter rescue requires some premeditation, actually begun last August when I placed my spring bulb order. This year I am trying, for the first time, Brent and Becky's Bulbs. Though they ship all over, they are a Virginia-based company, which I like as I believe the odds of anything they grow thriving in my Virginia garden are good. My order arrived a few days ago, and everything looks great. The box was full of 145 nice, plump, healthy bulbs.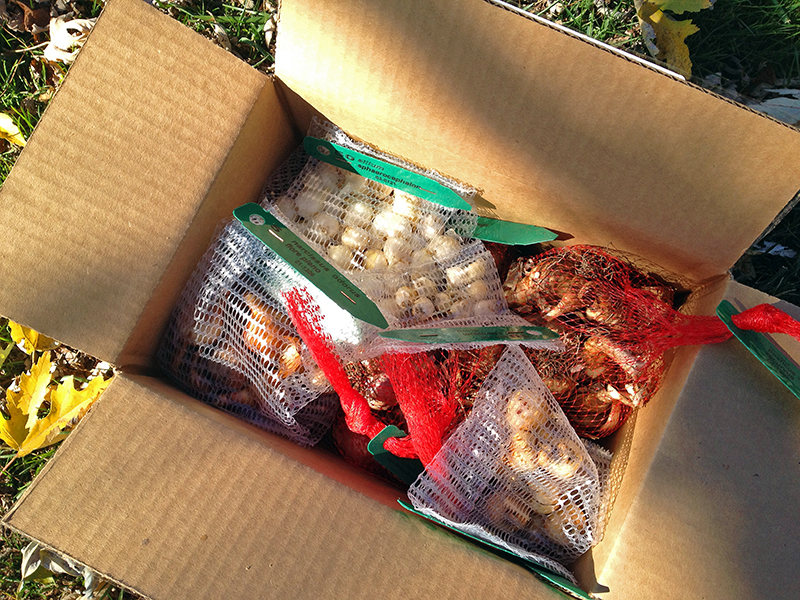 Of course I ordered a few unusual varieties of one of my favorite flowers, daffodils. I can never have enough. And I am experimenting with some alliums, based mostly upon how popular they appear to be in the gardens created by some of my favorite naturalist and New Perennial movement garden designers.
Today I will slip all these bulbs under the soil for their long winter's nap. And then, if all goes well, we will meet again in March, just when I need them most.
§ One Response to "Faith in a box"