I picked my first full-size tomatoes last Thursday. Winning the race were heirloom Mr. Stripey, the yellow below, and hybrid New Girl, the large red. Of course, the yellow cherry Sun Sugar has been producing for a couple of weeks already, as has Black Cherry. This is a great year to test Sun Sugar as a replacement for last year's Sun Gold, which split too much for my liking. Even with rainfall running 200% of normal for July, the Sun Sugars are not yet splitting and I find the taste just as good.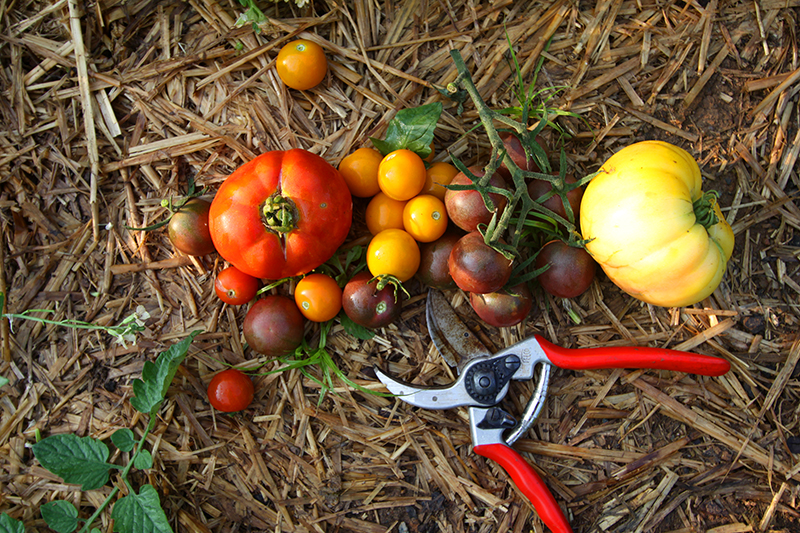 To celebrate these first tomatoes I had a few friends over for pizza and caprese salad made with fresh mozzarella and garden basil. Delicious!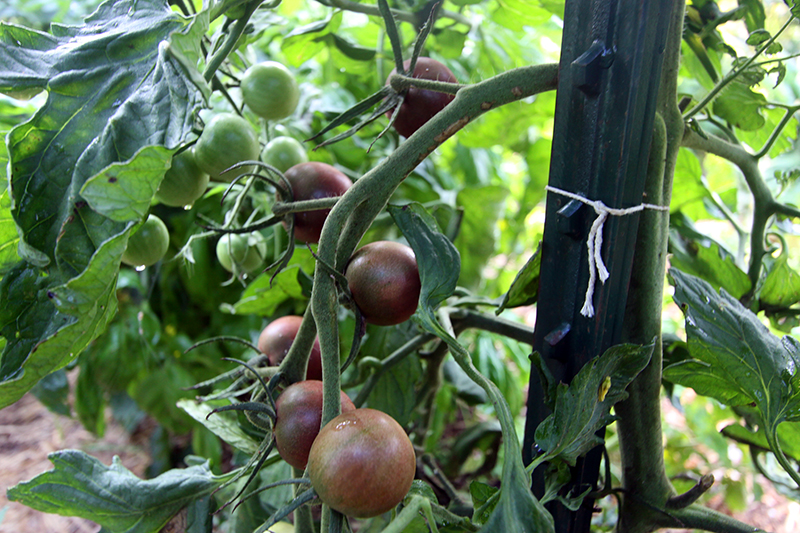 Last week's heat wave seems to have taken its toll on the the fruiting of some tomatoes. When the temperature and humidity levels get too high, tomatoes will flower but fail to set fruit because their pollen becomes unviable. Some heirlooms are particularly susceptible to this. Here's a good example, in Mr. Stripey, which developed a massive cluster of fruit near the soil but now has very few developing tomatoes further up the stem and evidence of lots of unpollinated blossoms.
Plants may resume fruiting when temperatures drop, as long as they haven't first succumbed to disease. I'm happy that signs of blight are still very minimal in my tomatoes, which is a good accomplishment with all the rain, heat and humidity we've had. And thus far I have used no chemical controls, just proper nutrition and garden hygiene.
§ One Response to "First tomatoes"