Ever since I moved to Bonafide Farm, I've wanted to grow hops. But the infrastructure always stopped me. Hops are vines (actually, botanically they are bines) that will grow 20′ or more, and need trellises that I just didn't have the energy to conceive and build.
But in mid-April I was down in Nelson County, which is now regionally acclaimed for its breweries (Devil's Backbone, Blue Mountain, etc.) enjoying a post-hike flight at Wild Wolf with some friends. A sign at a shop across the patio advertised hop rhizomes. I couldn't resist. Turns out I had discovered HomebrewZ!, a delightful little shop stocking all your homebrew essentials.
A very lovely woman sold me her last seven Cascade rhizomes and instructed me to "go across the way" to speak with another woman who would impart all the secrets of hops culture to this neophyte. I got the skinny from this sage and rejoined my friends and our dogs on the patio.
The rhizomes,which are nothing more than 3-4″ twigs, languished in a paper bag until I could do a little research and make a trip to the hardware store for supplies. Then my friend Simon and I spent an evening hauling forest topsoil and compost to the site of an old berry patch by the south side of the garage. Once we had the soil nice and juicy (hops are heavy feeders with an extensive root system), I mounted the ladder, drill in hand.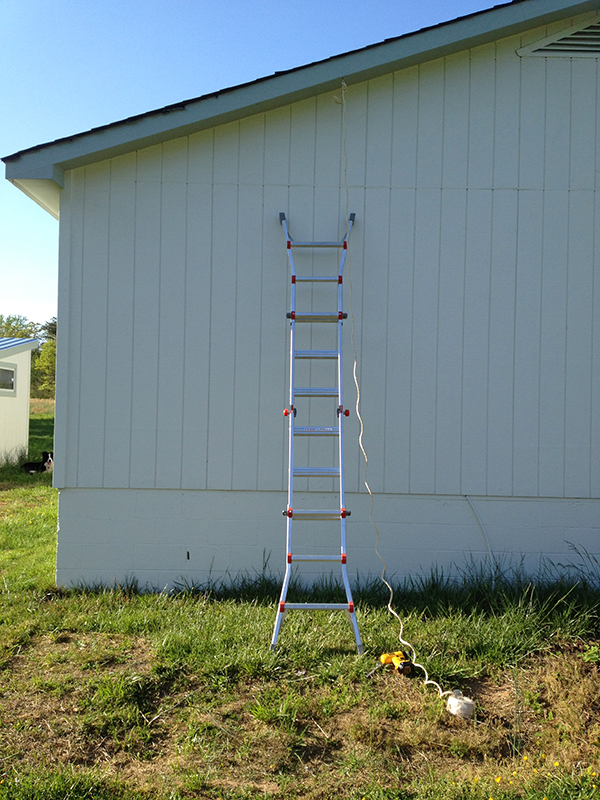 Right up under the eaves I installed two stainless steel eye-bolts. Then I ran 3/8″ sisal rope from them down to dog tie-outs that I'd screwed in to the growing bed. And this was the extent of my trellis system. One of the best things I have learned from living here is that sometimes things work out best when I am just pushed to react to what a situation demands, instead of obsessively planning to the point of inaction.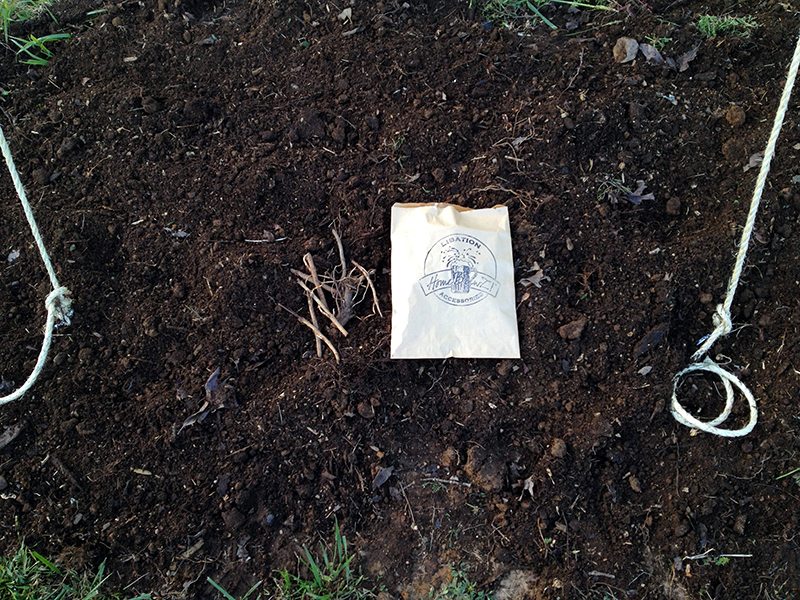 I arranged the rhizomes in the soil around each tie-out, covered them over, and hoped for the best.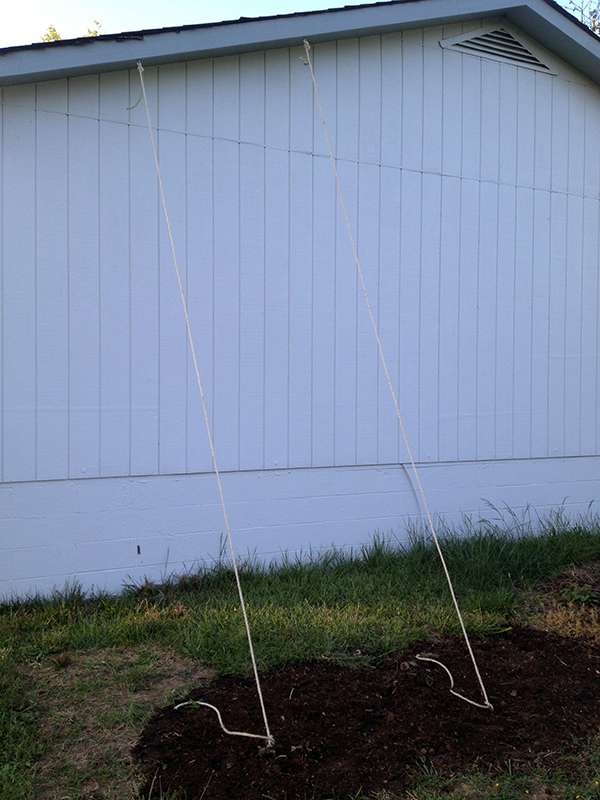 A few weeks passed with no change. Just as I began to worry that I'd gotten some dead rhizomes, tiny leaves appeared. And then there were more. I made chicken wire cages to keep the chickens from eating the hops, and in a few days more sprouts appeared. And then I went away to the beach for eight days, and when I returned my little hop babies had found their ropes and started to twine. So precocious!
Unfortunately the pasture was fast overtaking this nice, rich new bed, so last weekend I dug out all the weeds, laid down newspaper, and piled mulch on top. This will keep the weed pressure off my hops so they can grow to their max. That's my Celeste fig next to them, which came through this winter without any intervention from me and is on its way to becoming a beautiful asset.
I found another little snake in the mulch. This is the second "mulch snake" I've encountered.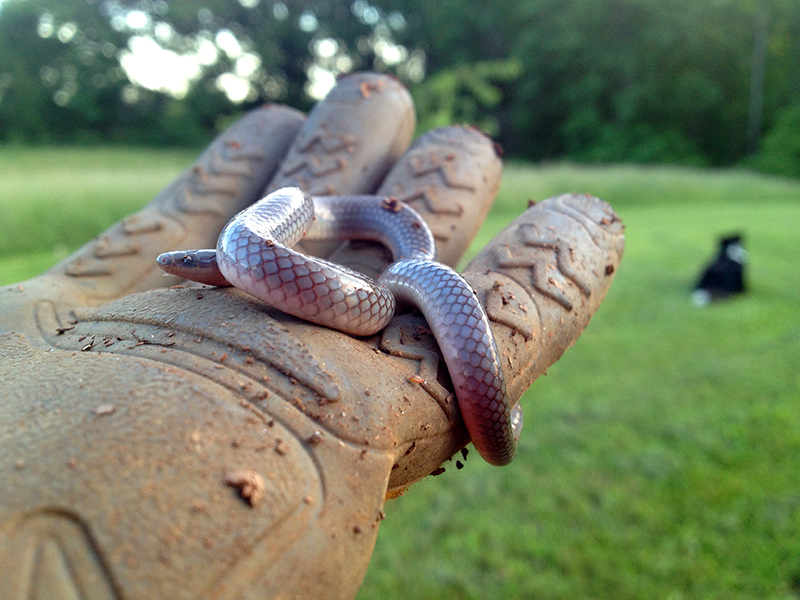 I placed him next to the growing hops. I figured twiney things belonged together.
I am very excited to see what my hops do. Maybe someday I'll be making a Bonafide Brew with my own homegrown hops! And if not, hops are a wonderful herbal sedative often used to induce sleep. A girl can dream…
§ One Response to "Hop to it"