Last week marked a huge turning point in the development of this little dream I call my home. My builder installed a contractor's lock and for the first time, when I left the house, I locked the door behind me. It's a big moment for a house–when it crosses from being a public to a private space.
Lots of developments last week. The delayed windows arrived and were set Thursday. Of course, the doors had gone on a week or so earlier. I spent much of last week and even the week before agonizing over exterior trim. I had a very specific idea of what I wanted…kind of a vintage-looking Craftsman trim. But we lost at least a week while my builder ordered a PVC sill that looked horrible and definitely wasn't what I wanted.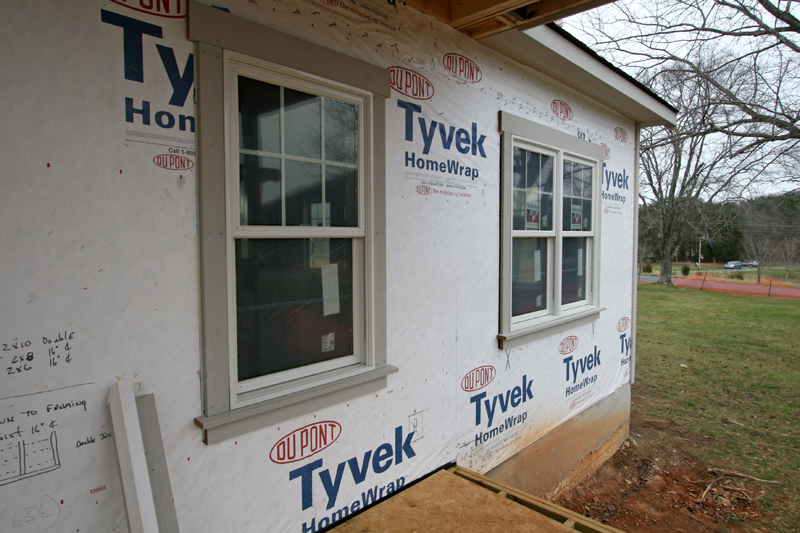 I'm thrilled with how the trim turned out and particularly grateful to my dad for helping me persevere to get what I wanted. When the PVC sill didn't work out, I was discouraged enough that I considered scrapping the idea of a sill altogether, thinking that my builder would never "get" my vision and be able to make it happen–which was disappointing as what I was asking for really didn't seem that hard! Thankfully my dad was there to mock up exactly what I wanted, using scrap trim pieces I pulled out of a wet garbage can, and when we showed it to the the trim carpenters they were immediately were on the same page. So…yet another lesson learned in what seems like a daily education in when to push and when to concede.
The HVAC crew also got started running the ductwork on Thursday:
All of a sudden, the house went from being a pristine frame, all lumber and light and air, to being the skeleton around a series of vital systems. I missed the unadulterated cube immediately, but I sure am going to enjoy being able to push a button on the wall and get nice warm heat or air conditioning! This is just one more step along this home's path toward growing up:
Starting tomorrow, the siding will begin going on, which means the house will be weathered in. The plumber is also slated to start rough in and we'll keep hustling toward the finish line. It's been great to see this burst of action–between the framers, trim guys, and HVAC crew, there must have been a dozen guys on site last week!