Some families spend their leisure time together relaxing on the beach or meandering across the golf course. In my family, group recreation is most often in the form of a construction or clean-up project, soundtracked not by lapping waves or the shout of "Fore!," but by the loud rumble of a diesel engine.
This past weekend my parents helped cross off one of my most anticipated Bonafide Farm tasks. And all it took was two long trailers, a small tractor, a big excavator, a dualie pick-up, half a dozen chains and winches, and a couple ropes. With all that equipment and three people, I finally got rid of this:
Hidden within that grassy mess is a 1950s David Bradley hay rake, which when I bought the farm was stashed along the woodline, covered in vines and honeysuckle. One of my closest encouters with it was during my first summer at the farm, when I was crawling around in the woods trying to retrieve errant guineas, and I looked up to see a massive snake stretched out along the warm metal, sunning itself. After that I stayed far away.
Two winters ago, when my friend Steve and my dad and I cleared the woodline of invasive trees and brambles and ripped out the old pasture fence, we dragged the hay rake out of the woods and dropped it in the field. Where it sat, all last spring, summer, fall, winter, and spring again. I posted it to CraigsList, but unfortunately it was in such poor shape—totally rusted through in spots—that I didn't get any takers. I hated mowing around it, and hated how it looked like a big piece of rusted junk in the middle of my otherwise well-kept field. Which, it was, arty sunset shots notwithstanding.
Well finally last Saturday night my dad hooked the green tractor to the hay rake and took it for its final ride across these fields. Of course, the rubber tires were rotted off so it was more of a drag than a ride.
Then Dad staged up an empty trailer and returned the next morning with Mom and the excavator.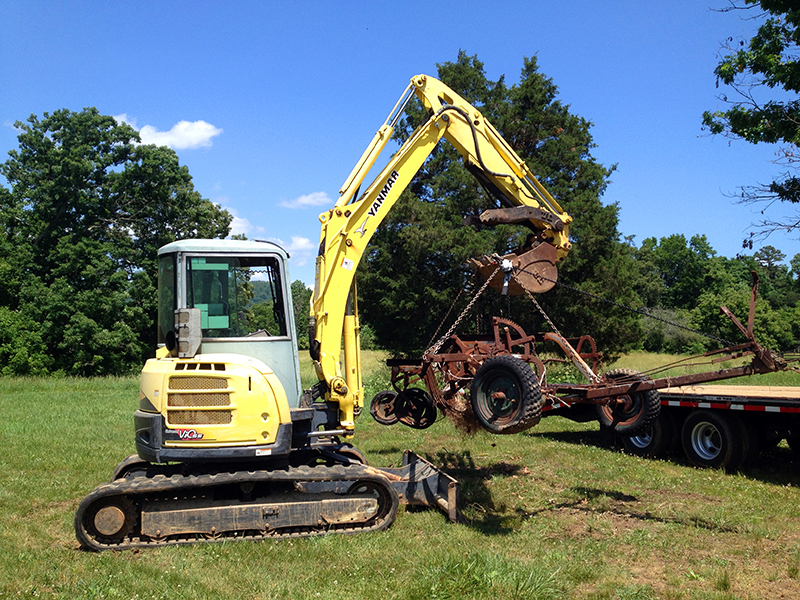 It took a few tries to get all the chains positioned so that the rake would balance when lifted in the air, but eventually Dad got the perfect pick. Then Mom and I got on ropes on either side of the rake to direct it as Dad lowered it on the bed of the trailer. We got it set down just perfectly within the confines of the eight-foot trailer bed.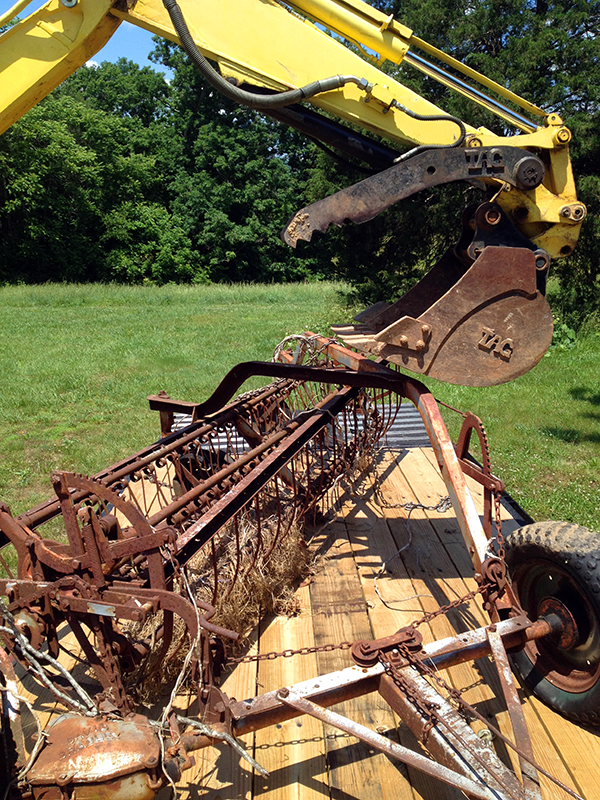 Then Dad chained it down and drove the whole rig off the farm to the recycling center. I was ecstatic to see it go—I had wanted this off the property ever since I bought this place five years ago!
With every bit of clean-up we do, we're reclaiming this piece of land which, though incredibly beautiful, was neglected and in some ways abused before I got here. Putting all this positive work, energy and intention into this property is nurturing it so that it can, in turn, take care of me. And I couldn't do it without my awesome parents, so thank you both for all you do to help. There are no two people in the world who I'd rather stand around with and breathe diesel fumes.