When hours in front of the wood stove leave me feeling parched and sleepy, I like to take a walk to my nearest body of wild water. I head down the hill to the creek that runs along the back of my property. I have a relationship with this part of the farm only during winter. From March to about November the brambles grow so thickly that the woods are close to impenetrable, as well as being distressingly thick with ticks.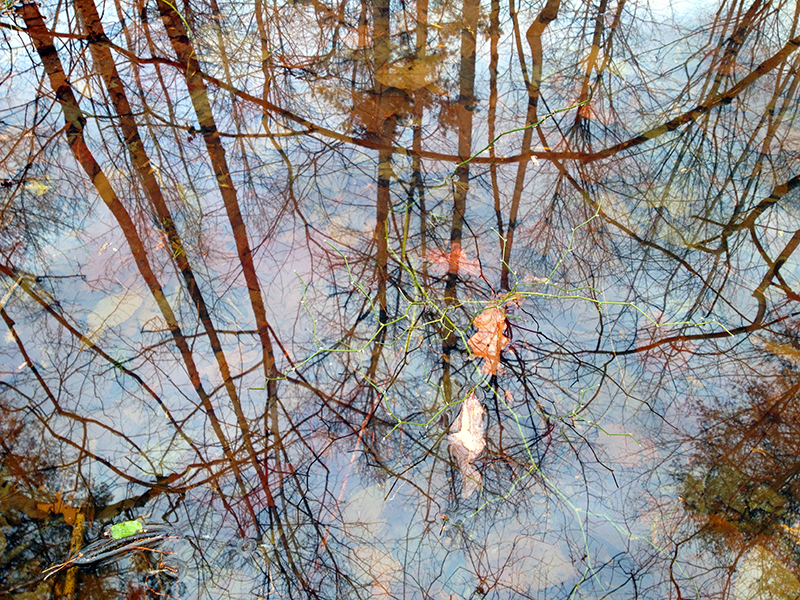 Walks to the creek in winter remind me of being a kid growing up playing in the woods and streams. Today the mineral smell of standing water and boggy decomposition flung me right back to being ten years old and scooping gelatenous masses of polywog eggs out of still water. The clumps broke apart and slimed my hands as I dropped them into a bucket of water before toting the survivors home to hatch in a fish tank in the garage.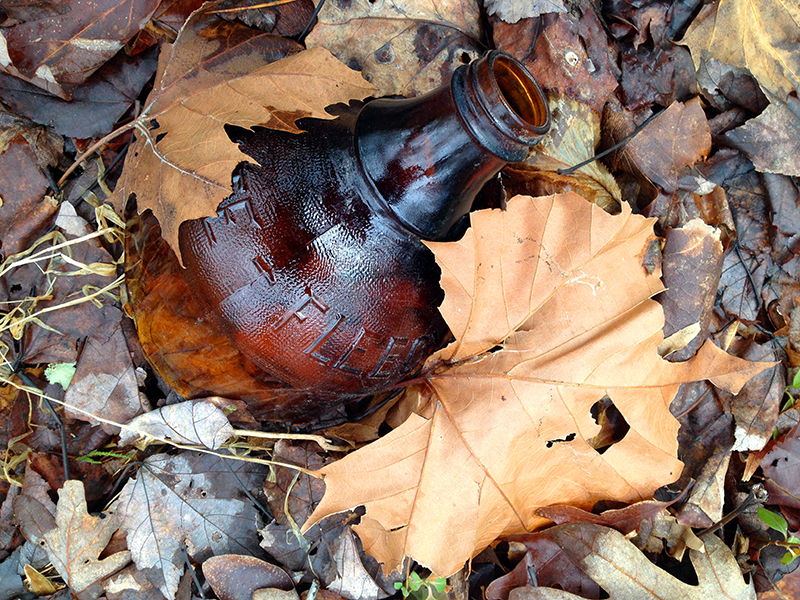 I always find some sort of treasure, usually old broken bottles, mostly of the hootch-holding variety. Today I found an amber jug with the words "white fleece" around its top. Nearby was the bottom of the bottle. I looked online but couldn't trace the bottle's provenance. The name make me think of fabric softener—but did that ever come packaged in amber jugs? A mystery for sure.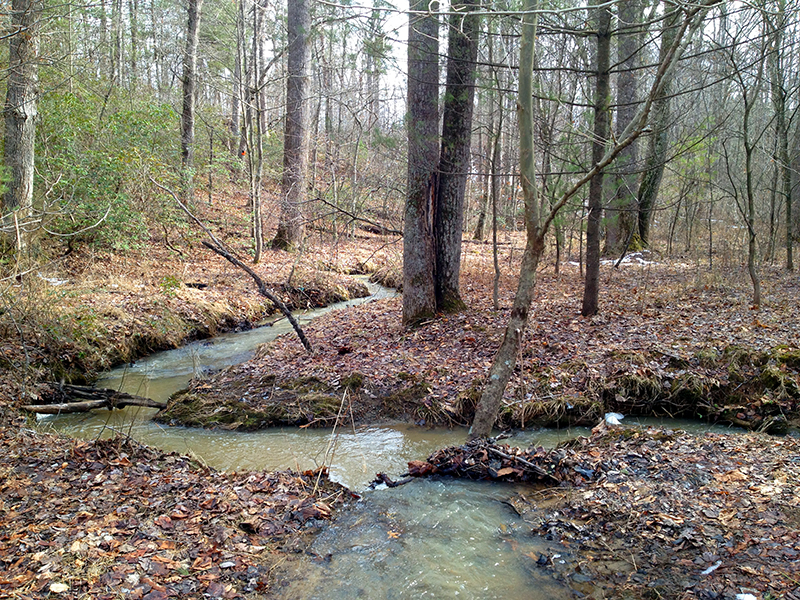 The sound of the creek relaxes me—some day I've love to live near moving fresh water—and I like to walk up the creek in my wellies and feel the current against my feet and legs. Today the water was fast and churning grey from our recent snowmelt and rain.
I have happy memories of the creek being the site of my first adventures with Tucker. When he was a tiny pup we'd walk down there, him absorbing the important lessons of following and staying close to me that have made him such an excellent off-leash trail dog. He'd stop and sniff stumps, memorizing the scents of the native foxes and beginning to understand his territorial responsibilities. I'd coax him up and over fallen trees—massive obstacles to legs just a few inches long—him gaining confidence and learning to trust that I wouldn't hurt or put him in danger. Trips to the creek laid a good foundation for our partnership.
Eventually I restricted Tuck's range to within sight of the homestead when I installed his invisible fence. He still has acres to patrol, but his winter visits to the creek are now just memories.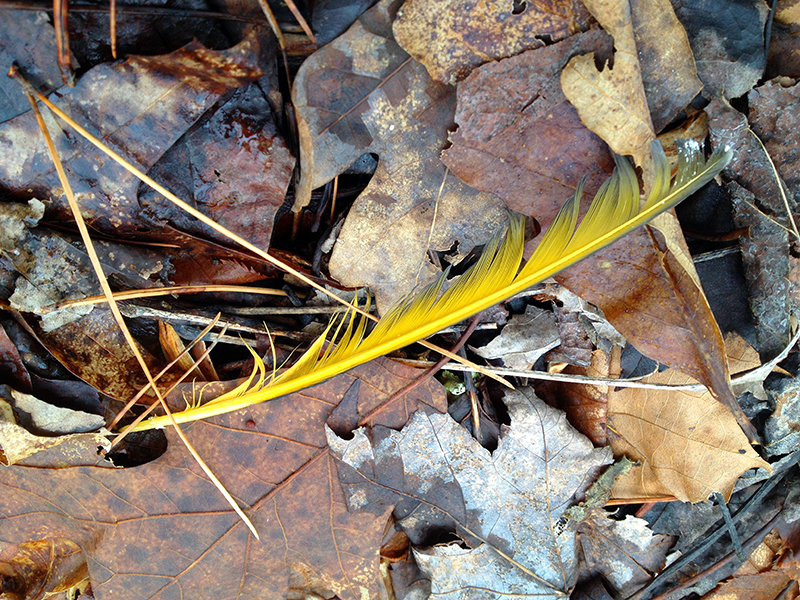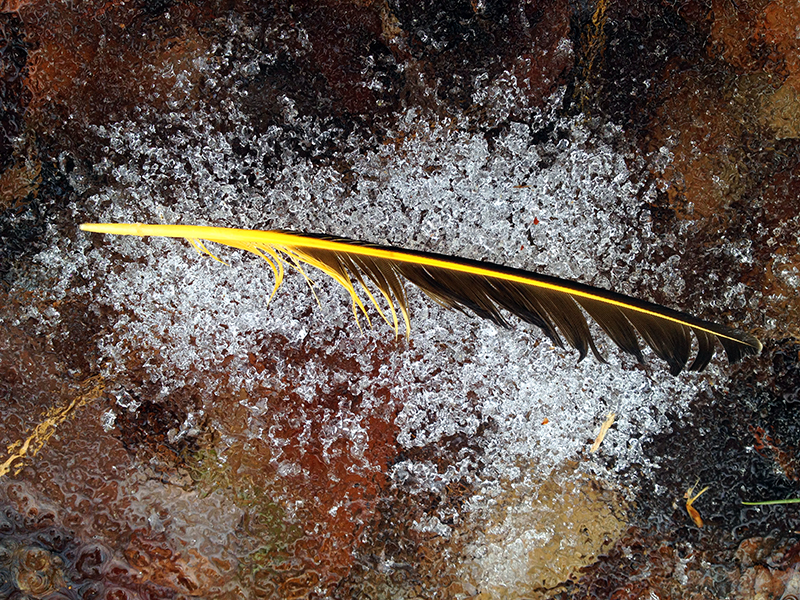 I spotted real treasure today with this small yellow feather. Despite being only about four inches long, against the brown leaves it stood out to me like a beacon. I tucked it into my pocket, to add to my collection, and once home identified it as a wing feather from a northern flicker.
At some point I approached what I was sure was a horse-sized skull buried in the creek gravel. I got very excited, but turns out it was just a plastic bag. Seeing it brought to mind a hike I took up a creek in the Blue Ridge with friends the summer before I went to college. We got to a very tricky part that was basically just scrambling up a sheer rock face covered with rushing water. As I started to climb I slipped and fell backward into a pool of water, hitting my hip and injuring it for for what would turn out to be years to come. I was in great pain, but when I went to heave myself up I turned and saw that I'd splashed down right next to a dead dog, pale and decomposing in the water.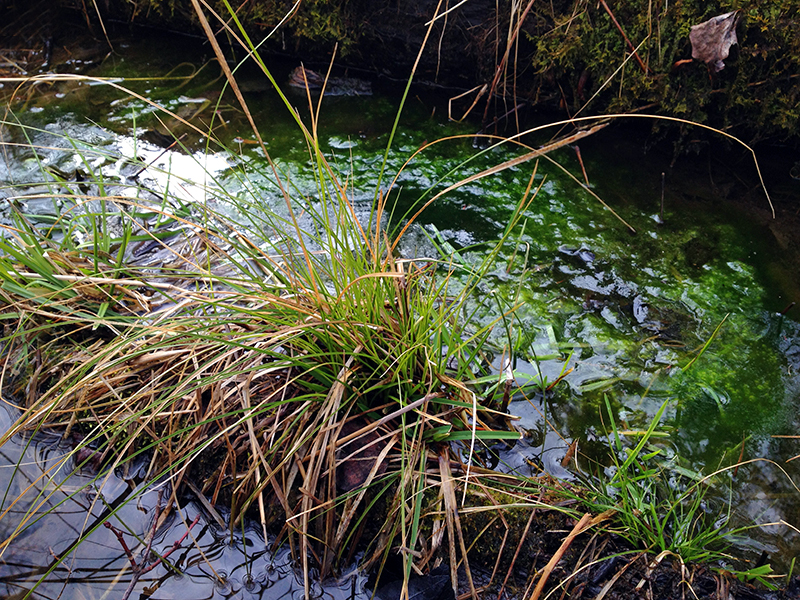 Maybe the winter colors of the creek really are all about death and decay. Regardless, or maybe because of this, I love this winter creek's color palette best—when the water and leaves combine to give me new appreciation for a subtle layering of browns spiked with an occasional acid green, bone white or flicker gold. It takes work to seek out inspiration in winter, the season of sleeping rot, but each time I walk to the creek I find something beautiful.
§ 3 Responses to "Winter colors: Trip to the creek"