If you are sickened by chicken wound pictures or first aid, this would be the post to skip.
This morning as I let the chickens out to range, I grabbed my smaller Lavender Orpington hen as she came out of the coop. I'd knew she had a wound for at least a couple of months, and I'd been watching it. I suspect that without feathers to protect her back, courtesy of my feather-picking hen, my rooster had sliced the Lavender's back with his claws when he mounted her. What had been a small black hole was now a wound the size of a golf ball, hidden behind her wing.
Today, for the first time, the wound smelled bad. And when I flipped the hen over, I found a messy bottom and some sort of infestation in the fluffy feathers under her vent.
With her missing back feathers, purple Blu-Kote stains, a huge necrotic wound, and some sort of insect problem, this chick was a mess.
The evidence for culling her mounted as I considered her performance. This hen wasn't a great layer, always depositing smallish eggs on the coop floor where they usually grew dirty enough that I fed them right to my dog. I'd made up my mind I didn't want to continue to keep Lavender Orpingtons because I found their super-fluffy butt feathers to be always collecting poop and debris. And if she hadn't managed to heal her back wound, did I really want to continue her genetics in my barnyard mix?
But what started as a snowy day had turned sunny, so I returned the hen to the flock for one last day of free ranging before I did the deed. And in the ensuing hours I thought about how I would. I had settled on beheading by branch lopper when I went out around noon to give the chickens the goodies in the compost bucket. When they saw me they all came running, including Dead Hen Walking. When I shook the compost around the garden, she was just as active as the other birds. I stood watching her for a long time, and when my feet finally grew too cold to stay outside any longer I had decided to put some effort into healing this bird.
With eight laying hens, two of which aren't very stellar in their production rate, this Lavender's dirty eggs represented a big percentage of my flock's output. And I'd recently decided to free range my birds as much as possible, and thus some of her value lies in her insect control ability and manure production. Plus, I am fully expecting some predator loss during ranging. After considering the time and expense and food and care that I've put in to this bird since I got her in June, to get her grown and laying, it seemed foolish to cull her if she was still up and about and acting fine—even though the last thing I wanted to do was nurse another chicken.
But nurse her I did. I caught her and brought her into the surgery, my laundry room sink. I filled her back wound with peroxide while I soaked her dirty bum feathers in warm water. I scrubbed her clean with dog shampoo and then used needle-nosed pliers to remove the feathers that were caked with the eggs sacs of what I later found out were chicken lice. Underneath her plucked feathers she looked very much like the start of a supermarket dinner. When her back wound had softened I scrubbed it out with a disinfected toothbrush, loosening the blackened tissue and rinsing it down the drain. Then I alternated rinsing peroxide and providone iodine in the wound.
And through what must have been a horribly painful event, this blessed little hen put up nary a struggle. I've found my Lavender Orpingtons to be the sweetest, slowest, and most docile of all the breeds I keep, and her demeanor definitely showed through this treatment. She even seemed to enjoy the warm water soak.
When I had her cleaned up as best as I could, I got the hair dryer and blew her dry. I didn't want her to get chilled when I returned her to the coop, and she bore this treatment with good graces that none of my other pets possess.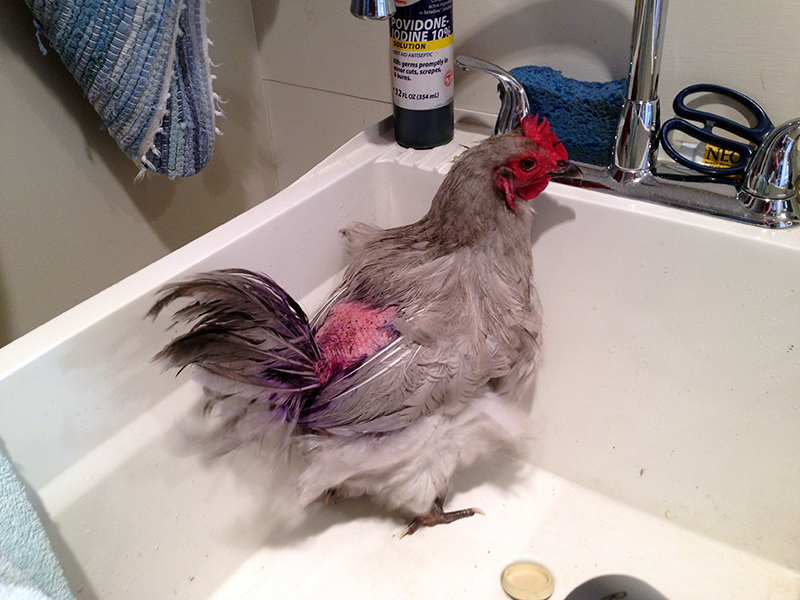 I worked on her until she began to smell of rotisserie, and then squirted even more iodine into her wound. Then I wrapped her in a towel and took her outside.
There she got a good spray of Blu-Kote to discourage her flock mates from pecking her bleeding, reddened skin. Then I released her into the coop. And within one second my rooster jumped on her back to mate. That kind of pissed me off, so I knocked him away and left them to their lives.
I don't know if I will be able to get this hen's back wound to heal, but I will keep trying. If Cora taught me anything it's that chickens are incredibly resilient. Tomorrow I am going to get some diatomaceous earth and create a dusting box for the birds. Apparently chicken lice populations bloom in winter when the birds can't dust bathe because of frozen or muddy ground. So I will start as conservatively as possible to treat the lice, keep an eye on the Lavender hen, continue allowing the birds out to free range as much as possible, and dream of spring.