I hope all the maimed chicken photos aren't turning anyone's stomach. It's just that I find it fascinating that a bird that I thought I watched die in front of me not only lived, but has managed to live with no skin covering her skull for almost a month.
Further, after Cora's injury I did lots of internet searching for "chicken head wound" and other, even more disgustingly descriptive terms. I was trying to gauge her prognosis compared with similar injuries, and just about everything I read reported that her odds weren't good. The wound was so extensive, it was summer with its increased risk of fly-borne infection, and on and on.
But, I am here to report that Cora is still alive and seems more fit than I would have ever hoped. Here she is last weekend. You can still see what's still exposed of her skull—it's that bone seam near the top of her head. At this point her left ear has grown back on to her head as the wound closed.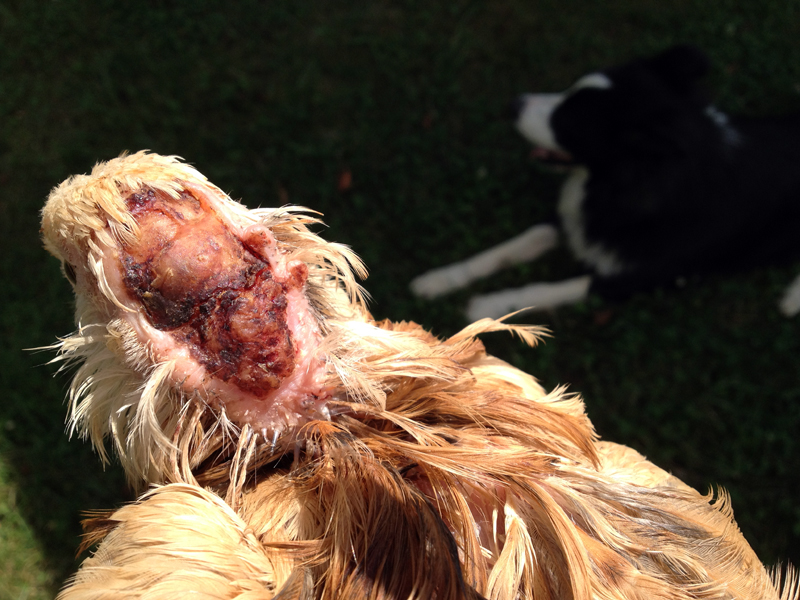 And here she is today. The wound is filling in from the edges with nice pink new skin. She's even regrowing feathers, on her head and where her wing was bloodied.
As you can see, her skull is almost completely covered.
I have doctored her every night since the attack with Neosporin, and sometimes in the morning. My gut is telling me that keeping the scabs moist is helping with the healing as well as deterring flies. Guess it must be working…
§ 3 Responses to "Cora update"