Let's pick back up with what's kept me occupied every weekend for the past month:
I leveled the mulch and topsoil piles.
Just like with the azaleas, I am on a mission to clean up the extraneous piles and anything that gets in the way of easy mowing (all the trees I keep planting notwithstanding). The tarp-covered piles were just as attractive to snakes as they were to a hot dog on an 80+ degree March day. In fact, last fall I found a five-foot snakeskin in this mess.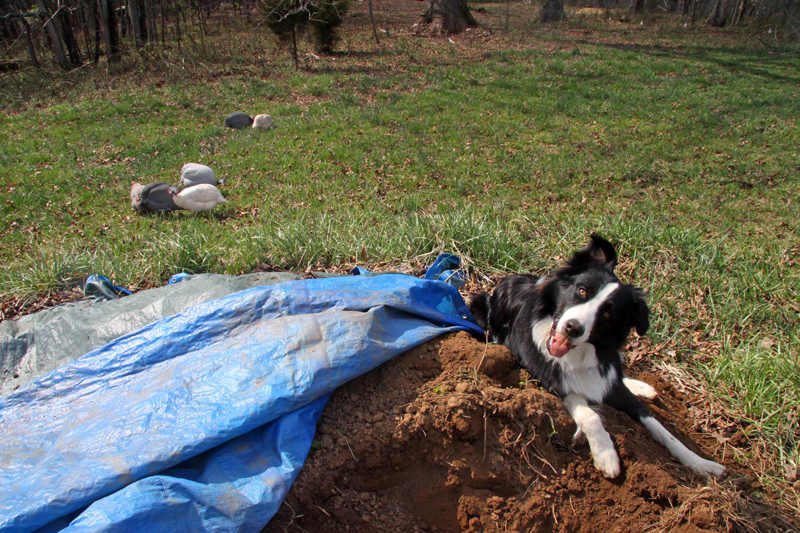 But really it was the sight of the Katrina chic blue tarp on the latest satellite map shot of the farm that finally embarrassed me into action. Got to have this place looking good, even from the air!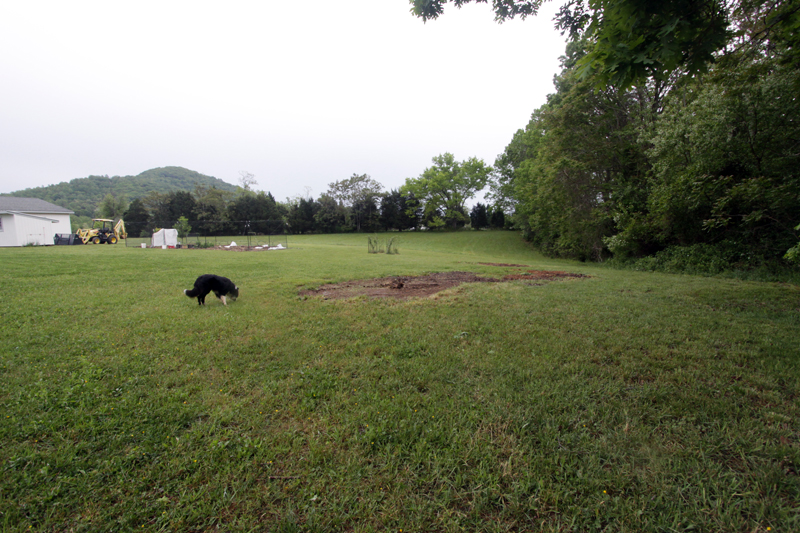 Now, it's much cleaner! I spread the extra mulch around trees and used the soil to fill in more low spots around the house.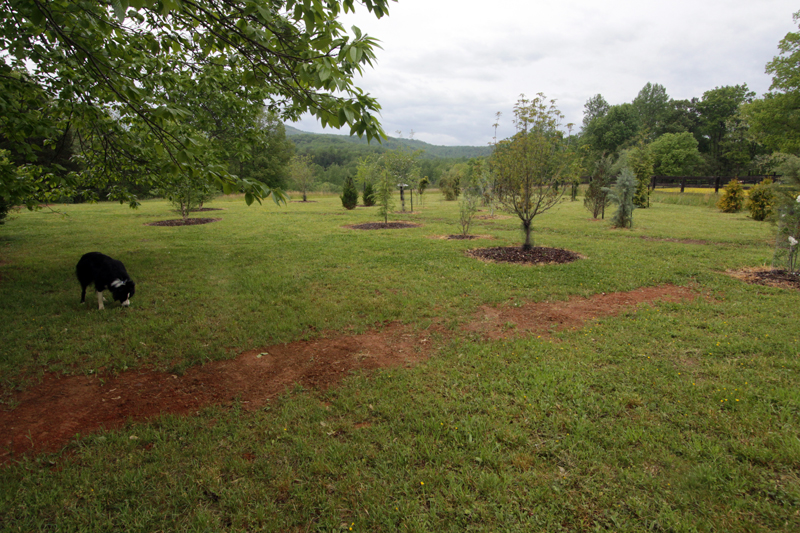 Finally, I dug out the previous owner's boulder collection and leveled "forsythia ridge."
April 2009, the first day I saw the property
There was an old stepping stone path from the wellhouse to the big oak tree behind it. At one time I suspect the path traveled to a clothes line, but now it didn't do much more than beat up the mower blade. My dad popped the stones out with the backhoe and we tipped them in the bucket. Turns out the "little" stone were actually huge. They had just been in place so long that grass had grown over them! They're nice stones—and waiting in a pile in the woods to be called into service again.
With the boulder collection gone, we knocked down a high spot in this area to greatly improve the levelness of the ground. This ridge was left over from the previous owner's forsythia installation, which was actually a couple of sad little bushes intermixed with honeysuckle and wild blackberries that were choking out a big old Rose of Sharon. I am not a forsythia fan, so we dug them out and now Rosie has room to breathe and there's nothing blocking the pasture and mountain view.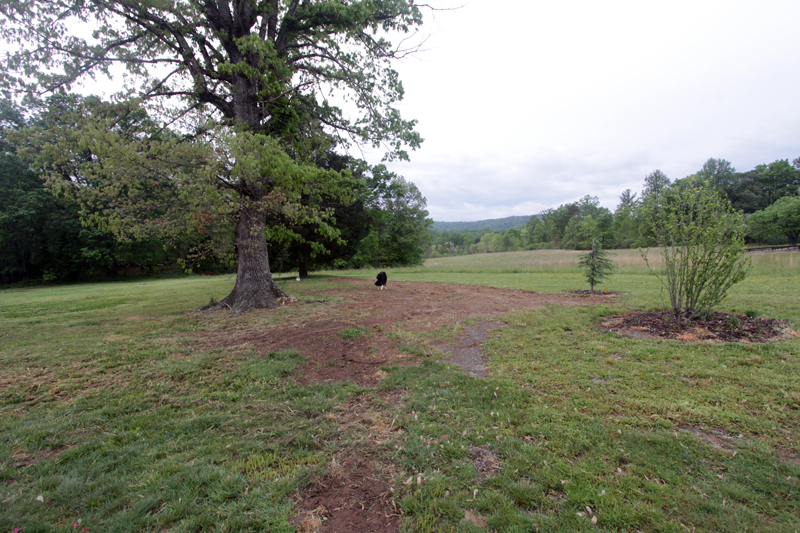 Of all the work that I've done this spring, cleaning up this particular section has been the most rewarding. When I bought this property, this area—which is in direct view out the kitchen window—was full of junk, including a huge satellite dish stand, a couple of termite-infested rotten whiskey barrels full of dead plants, the remains of a giant stump that no one had bothered to remove, and—oh—a giant electrical pole. Then I added a satellite internet dish. The human junk along with the misplaced bushes and uneven ground pocked with huge rocks always made this little patch feel forsaken. It's taken three years to remove all of the above and more. Finally having this small area stripped to clean dirt area makes me feel like I am erasing the abuse and neglect heaped upon this property by previous caretaker and replacing their story with mine.
And with all this newly bare dirt to cover, I am off to buy another 50 pound sack of grass seed!