A few weeks ago I ordered a HenPals chicken nest box for my hens. They were rapidly approaching laying age, and I wanted to be prepared. Other projects got in the way, though, and it was just last weekend that I could clean out the coop and install the nest box. I figured that since my hens turned twenty weeks old—pretty much the earliest they could start laying—on July 17, they had plenty of time to get used to the box before biology kicked in.
I am really pleased with this box. I ordered it online from a Georgia farmer who makes them by hand, and whose wife writes a great blog: Life on a Southern Farm. The nest box is well made and an incredibly good value compared with the commercially manufactured metal boxes. And I am proud to support an American farmer instead of a Chinese factory.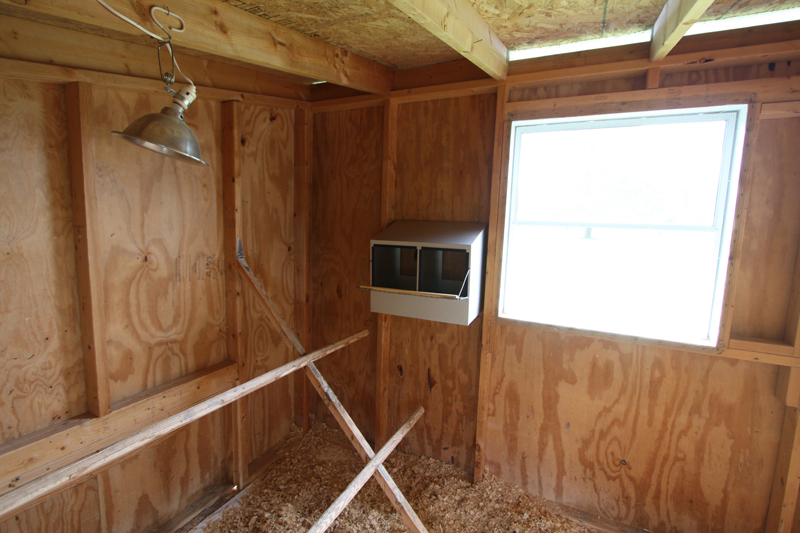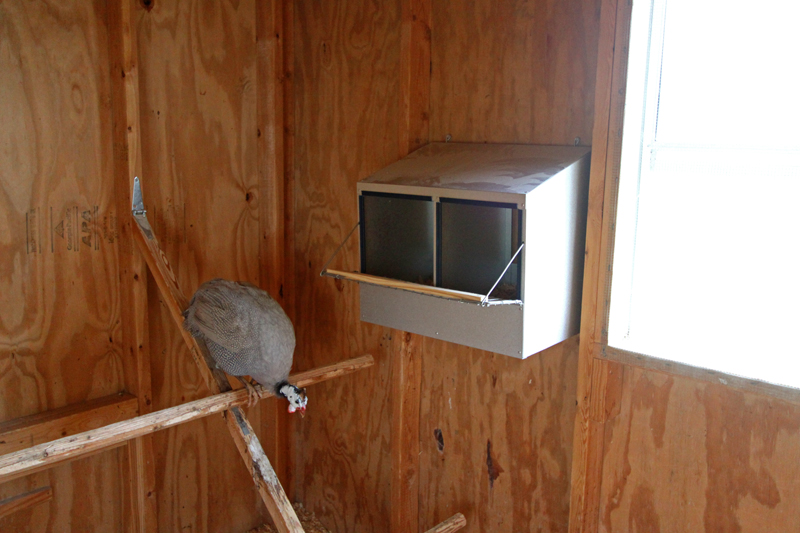 Anyway, I hung the box up last Saturday, and I know the hens were checking it out. And then last night I went in the coop, and this is what I found—on the floor of the coop, not in the box!
I first picked up that very dark egg, and I thought, hmmm…this doesn't look like a guinea egg. So I rooted around the pine shavings and came up with four eggs! I had been getting two guinea eggs a day (on the far left above). Something was definitely up! Either both hens started laying on the same day, which would be amazing but not impossible, or I missed an egg that had already been laid.
The poor things picked a inopportune time for this development—we are stuck in a miserable heat wave with temps around 100 degrees. Despite the fan I have running on high through the coop 24-hours a day, all the birds are showing signs of stress. Some stress-induced feather picking is happening on some of the guineas and the hens, just like it did during the hottest days last summer.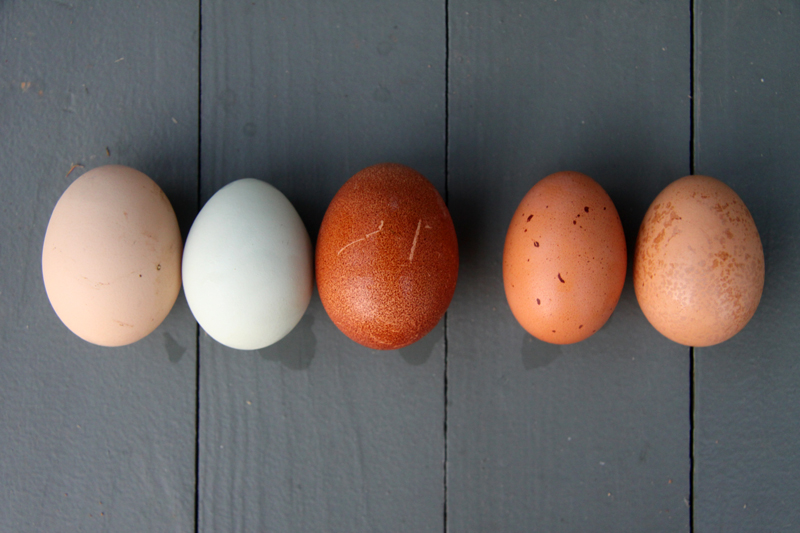 I compared my first chicken eggs with mature chicken eggs (the three on the left above). I am really impressed that my girls didn't start with little "peewee" eggs but produced some pretty good-size eggs on their first try. I am so proud of my little hens. Now if they will just realize they are not guineas and start laying in the nest box instead of the floor of the coop. All in good time, I suppose…Now I'm off to add some ice cubes to their waterer!
§ 2 Responses to "Big developments in the flock"