The tease at the end of my last post wasn't entirely about my new front porch sconces, though those are pretty neat. Instead, last week my house traded its zebra stripes and HardiePlank gray for its official paint scheme: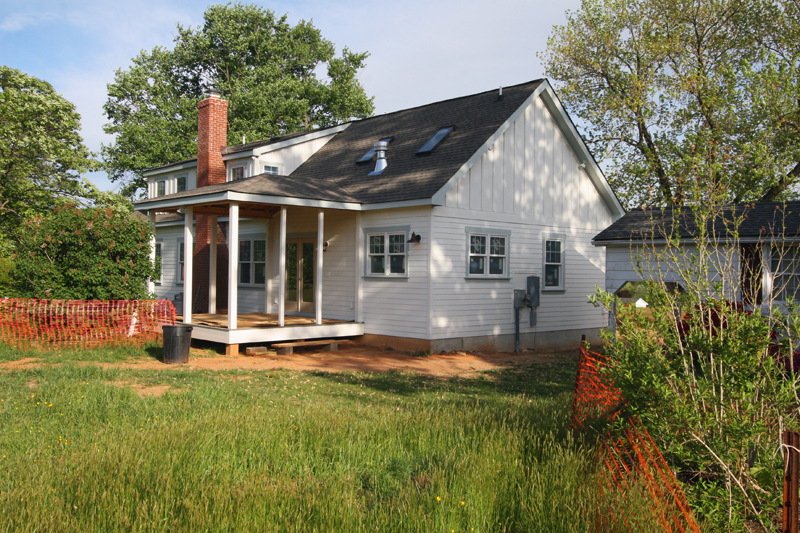 When I pulled up to the house one evening after the first coat of paint had gone on, I was pretty much beside myself with excitement and relief. I loved it instantly and I actually got kind of choked up with happiness that I managed to pull this off to my liking. One would think that to paint a house white would be the easiest choice in the paint deck, but the reality is the thousands of white paint colors are really just a minefield waiting for a very expensive and public misstep. Too cool, too warm, too gray, too gold. And of course, I knew what I didn't want—anything too stark or modern or anything resembling the shade of the old white aluminum siding we pulled off the house (and which is still on the wellhouse). But I've known from the beginning that I wanted the house to be white. It's something of an homage to the previous house that shared this foundation, and I also enjoy the look of a bunch of white farm/cottage buildings in a field.
The trim color was the easiest decision I made in this whole project. There's a house not far from mine that's just adorable…a little 1920s stucco cottage. It has the most amazing trim color—a dynamic shade that looks green in some light, grey in other, and sometimes even blue. I looked the homeowner up, asked her to share her trim color, and she invited me to visit. Well, the inside of her house was just as cute as the outside, and reflected the good taste of a very neat, artistic lady. We spent a couple of hours sharing some wine and conversation. I came away with a trim color and a new friend.
Now the only exterior color decisions left to be made involve the front door and the porch ceiling. I am really liking the raw wood look of the ceiling, so I may scrap my plans for a "haint blue" paint job in favor of a nice natural stain that will preserve the wood but leave its color looking like, well, wood. For the front door, I think I will experiment with the gel stains that are sold to stain fiberglass doors and see if I can get a nice medium oak color. If not, 'a-painting I will go. Ideas?