Last week I went to a local stone dealer to pick out the soapstone slab for my counter. Was this place ever cool! The owner, a really nice, almost-eighty year old man who comes from generations of stone merchants, took me through his warehouse where I about flipped my lid at all the beautiful kinds of stone. Is it any wonder, considering my most salient memory of touring the Vatican at age 15 wasn't of seeing il Papa perform Easter Mass, it was of all the magnificent inlaid marble and mosaics?
As my guide wandered with me amongst slabs of granite and limestone and marble, he was as excited as I, even after spending a lifetime looking at stone. "I love my work," he said. "It reminds you that Mother Nature is the greatest artist of all."
He'd just gotten a new shipment of soapstone from Brazil. Now there is one of the country's great soapstone quarries just south of Charlottesville in Schyler, but in yet another great economic irony, it actually cost more than the Brazilian soapstone.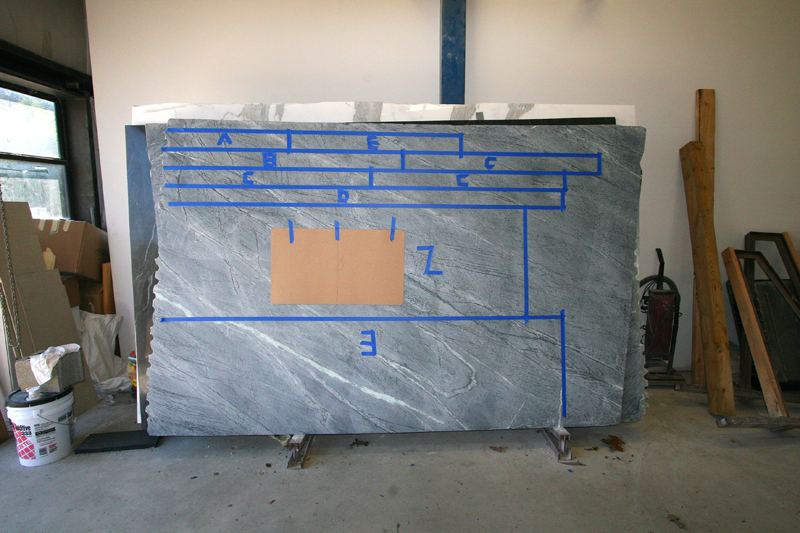 A nice shop worker operated a neat hydraulic lift that plucked the giant slabs like tissues from a box. I picked out this piece, falling in love with the white veining and vibrant patterning. Originally I had envisioned a "quieter' stone, more uniformly grey like a chemistry lab counter. But I couldn't resist the obvious artistry in this stone, which will darken to almost black with repeated applications of mineral oil. In the major white vein near the bottom of the slab, there are actually aquamarine-colored crystals. Sold. A few days later I returned to see the slab all marked up with how it would be cut to fit into my kitchen, backsplashes and all.
"I have a customer who just comes to buy pieces of stone to hang on his wall like artwork," said my host and tour guide. After a trip to the showroom, it's easy to see why. I like buying functional art, and even after I roll out a few hundred piecrusts on this counter, I am sure I will still find new facets to appreciate in its beautiful design.
§ 2 Responses to "And it stoned me"