We continue our tour of Bourton House by focusing on a few details. The image below is a good representation of what I just learned from Ursula Buchnan, in The English Garden, is the quintessential English garden: "informal and generous planting within a formal layout." Such a simple definition but it cracked open a world of understanding for me. You can see the formal elements in the lawn bounded by paving blocks and in the wall at the far end of the path. But the plantings within this structure are riotous—they range and blend together and overspill their bounds onto the lawn.
Even though they don't fit the "English garden" definition as well as the photo above, I loved the areas in the two following photos. The collection of succulents and specimen plants looks like something I do at my own house, when all my tender plants go outside to spend the summer on the porch of the well house. I loved the succulents growing out of the wall, below, which gave the effect of the plants on the ground literally climbing the walls.
Someone with a great eye for color put this tiny masterpiece together. The shape of the geranium leaves (far right) really plays off the shape of the green and pink succulent in the center and makes for a unexpected and fascinating pairing.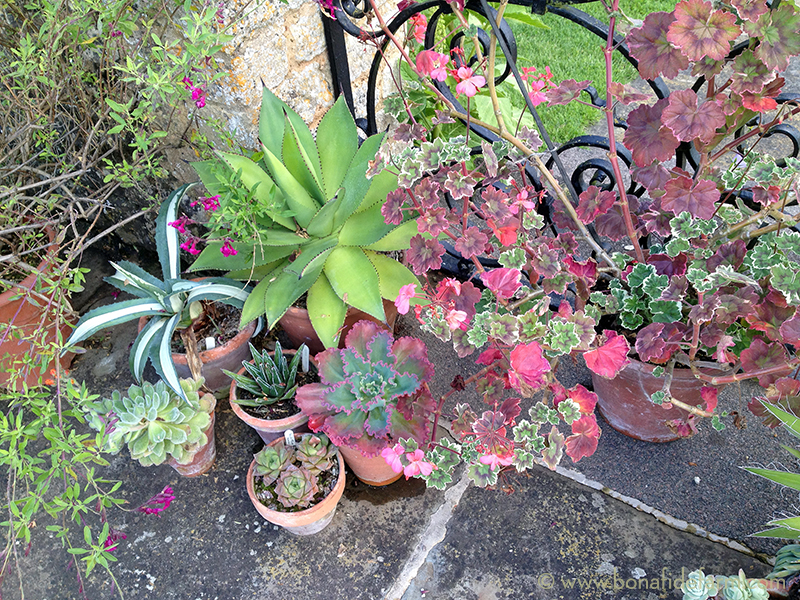 Next up, one of the coolest structures I've visited in England, the tithe barn adjoining Bourton House. It has a dedication stone of 1570 with the initials RP for the then owner, Richard Palmer. Back in the Middle Ages it was used to store the one-tenth of the farm's produce that was tithed to the Church. What I loved about this space, which is now used as a gift shop and event space, was the proportions of the huge interior and the way the yellow Cotswold stone block walls joined to the plaster and beam ceiling. And look at these cross beams! They're some seriously wonky, wormy, incredibly beautiful old wood.
The detail on the balcony railing was also particularly nice, with the wavy balusters. The finials were my favorite—hand-carved and crooked in a wonderful way that made them appear full of personality.
Back outside, I found the only topiary I've ever liked:
And finally, the mixed shrubbery planted along the exterior of the Bourton House fence is another master class in combining foliage colors.
Some day, something like this is what I'll do in the field between my house and my neighbors, in front of the screening trees that I planted a few years ago. At least this is the vision!