Last week the siding/trim guys installed the tongue and groove ceiling on the front porch. I am so pleased with how it turns out—the seamless transition from flat to arch to flat was a bear to figure out, as was how to apply the material to the barrel of the arch—but all the hard design work payed off in a beautiful execution.
It reminds me of something you'd see on a ship, all beautiful wood lapped tight together around a curve.
And then Friday drywall started going up inside and boy does the house feel different! It feels complicated to me as I forge new paths around unfamiliar barriers. No longer can I walk though walls to get from one room to another!
From the front door. May I present my front hallway—really one of the reasons I reworked the old house, so I could have a proper foyer. After living for the past 12 years in apartments where the door opened directly upon the main area, I lusted for a foyer to serve as a formal transition between outside and in, as a place to stow coats and boots and keys and mail and vases of fresh flowers.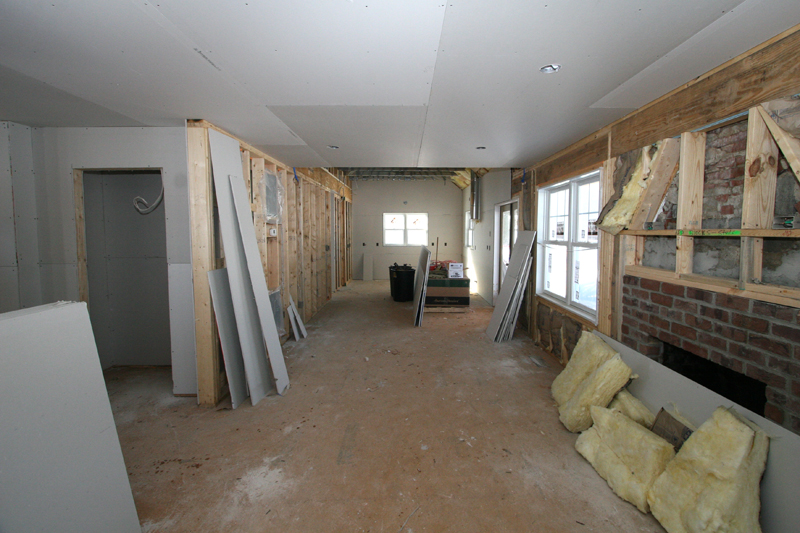 Looking from the corner of the living room into the front hall closet at left and kitchen at right, you get a peek of the new brick fireplace surround in front of the old chimney peeking through the studs. We ripped the old one out a few weeks ago and redid it, as when we razed the old house and rebuilt, the floor ended up higher than it was originally and the firebox was no longer proportional. Plus, its lintel was too low to accommodate a wood stove pipe. I chose a handmade brick from North Carolina that's very rustic and rough, and I am happy with how it turned out. I may still paint it or not depending upon how it looks when the mantle is installed.
From the library looking into the studio, at left, through what will be glass doors, and into the living room, at right, through pocket doors.
Here's the front hall looking into the funny little powder room tucked under the stairs. I'd like to do something really fun in this space since it's so small and odd-shaped. I'm thinking wallpaper? Don't freak!
And as if that wasn't enough excitement, we got 10 inches of snow on Saturday, when the temperature failed to rise above 17 degrees. There were still piles lying around from the Dec. 17 storm and here we go again!